What is pufferfish? The fact about puffer fish...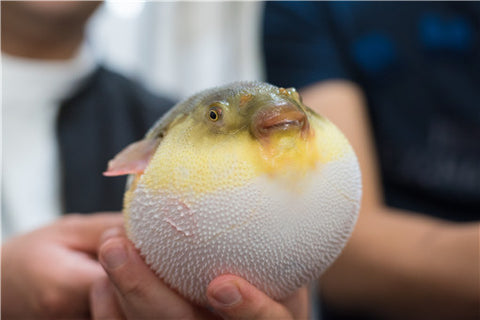 The pufferfish is a family of fish, with about 100 species. They are also known as the blowfish, fugu, swellfish, and globefish.

Pufferfish can inflate into a ball shape to evade predators. Also known as blowfish, these clumsy swimmers fill their elastic stomachs with huge amounts of water (and sometimes air) and blow themselves up to several times their normal size.

Some pufferfish species also have spines on their skin to ward off predators. Even if a predator gobbles up a puffer before it inflates, it won't enjoy the snack. Most pufferfish contain a toxic substance that makes them foul tasting and potentially deadly to other fish. The toxin is deadly to humans. There is enough poison in one pufferfish to kill 30 adult humans, and there is no known antidote.
To humans, tetrodotoxin is deadly, up to 1,200 times more poisonous than cyanide. There is enough toxin in one pufferfish to kill 30 adult humans, and there is no known antidote.
What happens if you get poked by a puffer fish?

Symptoms generally occur 10-45 minutes after eating the pufferfish poison and begin with numbness and tingling around the mouth, salivation, nausea, and vomiting. Symptoms may progress to paralysis, loss of consciousness, and respiratory failure and can lead to death.
Which puffer fish are not poisonous?

Not all puffers are necessarily poisonous; the flesh of the northern puffer is not toxic (a level of poison can be found in its viscera) and it is considered a delicacy in North America. Takifugu oblongus, for example, is a fugu puffer that is not poisonous, and toxin level varies widely even in fish that are.
Of course, if you want a puffer fish as a pet, our stuffed pufferfish plush toy can be the perfect substitute!
Check Our Product: Stuffed Pufferfish Plush Toy